Potential Scenarios
The Good: Improvement
Europeans move forward from Brexit with an increased positive sentiment toward the Union leading to a wider representation of pro-European parties in the European Parliament
Anti-establishment parties fail to deliver on expectations. Stability in the European Parliament with traditional pro European political groups reenergized
The Bad: Paralysis
A more splintered European Parliament with a significant increase in the number of nationalist or populist MEPs. No governing majority and each legislative vote turns into an unpredictable political battle
The EU decision making process is slow. No real ambition for the Union. No country takes a leading role driving the agenda
The Ugly: Deterioration
Anti-establishment parties take control of the European Parliament. Negotiations are mainly based on national issues. Agreements hard to reach
Increasingly vocal calls from other Member States to follow UK out of the Union
FTI Key Takeaway:The elections remain an open race. Current polls suggest we are heading towards a hybrid. Brexit is undermining the European project but is also galvanising opinions about its priorities. A reinvigorated European project being pushed by politicians like French President Macron, could reconnect with voters. However this will be compounded by an influx of new anti-establishment MEPs representing the far left and right. The devil will be in the detail and the final numbers to see who, if any, will hold the balance of power in the new Parliament.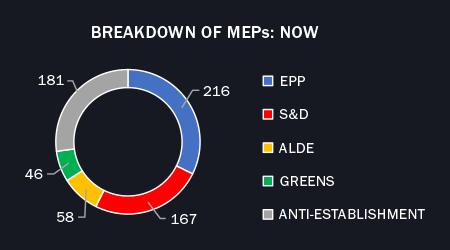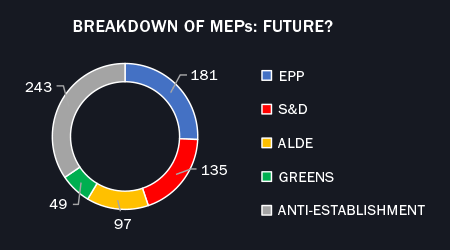 FTI Prediction: Top 3 trends
Instability:
Louder and stronger anti-establishment parties will disrupt.
Divide:
Increasing divergence between western and eastern Europe.
Governance:
Tough negotiations expected to define new governing majority.
Introducing the European Parliament's current political groupings:
European Peoples Party (EPP) – Right, pro European, conservative
Socialists & Democrats (S&D) – Left, pro European, progressive
Alliance of Liberals & Democrats for Europe (ALDE) – Centrists, pro European, liberal values
The Greens / European Free Alliance (GREENS) – Left, pro European, progressive
Anti-establishment – Brings together Eurosceptic, populists and extreme parties (GUE/NGL, EFDD, ENF, NI)
NB:ECR (European Conservative and Reform group) set to disappear with the UK conservatives leaving parliament with Brexit. Other members will go to another group. Please note that regions have been created for illustrative purpose, only based on geography, not politics.
Source: EP Press News web page / including LREM in ALDE – Based on mid-March polls