The International Energy Agency (IEA) releases each year in October/November its World Energy Outlook (WEO). The IEA WEO 2022[1] provides analysis of global energy and of the implications for energy security, environmental protection, and economic development. The WEO uses a scenario-based approach to highlight the key choices, consequences and issues lying ahead, and to show how the energy system can be affected by changing the energy policies of governments around the world. This paper identifies the main conclusions from this year's edition, in the troubled energy context stemming from the Russian aggression in Ukraine and with the pressing climate urgency in the background.
We are approaching a peak of global energy related emissions
According to the WEO 2022, the commitments made by all the nations in their Nationally Determined Contributions (NDCs) in the context of the Paris Agreement result into a peak of global energy related emissions in the next years. The Stated Polices Scenario (STEPS) in this Outlook is the first WEO scenario based on prevailing policy settings that sees a peak in global demand for fossil fuels. It was not the case in the previous years' editions of the WEO.
Emissions would plateau around 37Gtons, to decrease slowly to 32Gtons by 2050. This would result in a temperature rise of the order of 2.5°C by 2100, clearly incompatible with the Paris Agreement itself.
In the more ambitious Announced Pledges Scenario (APS), the drive to meet climate pledges in full sends demand for all the fossil fuels into decline by 2030. Emissions peak in the mid‑2020s and fall to 12 Gt in 2050, resulting in a global median temperature rise in 2100 of 1.7 °C. This is still slightly short of the Paris Agreement objective.
The Net Zero Emissions by 2050 (NZE) Scenario has emissions falling to 23 Gt in 2030 and to zero in 2050.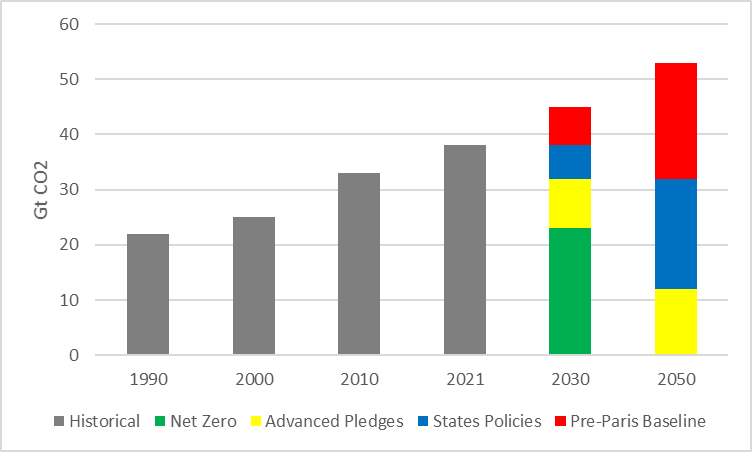 Adapted from IEA, Global energy related CO2 emissions by scenario, 1990-2050, IEA, Paris https://www.iea.org/data-and-statistics/charts/global-energy-related-co2-emissions-by-scenario-1990-2050, IEA. License: CC BY 4.0
There is no durable coal revival
Even in the STEPS scenario, the current upside of coal, which is due to the gas price crisis and the war in Ukraine, does not last. The policy measures in STEPS promote investments in clean energy to over 2 trillion dollars a year in 2030.
Renewables, supported by nuclear power and energy savings and efficiency measures will eat into the coal share in the coming years. This is excellent news for the climate and this evolution is consistent with the coal phase-out or phase-down policies of many countries and of the G7[2].
The war is provoking a global shift in energy geopolitics
Russia used to be by far the world's largest exporter of fossil fuels, coal oil and gas combined, but its invasion of Ukraine is provoking a fast reorientation of global energy trade. All Russian fossil fuel exports to Europe had ultimately been undercut in previous WEO scenarios by Europe's net zero ambitions, but Russia's ability to deliver coal oil and gas at low cost meant that it lost ground only very slowly in these previous scenarios.
The present rupture means that Russian fossil fuel exports would never return, in any of the scenarios in this year's WEO, to the levels they were before the war. Russia's share of internationally traded energy, which was close to 20% in 2021, falls to 13% in 2030 according to? the STEPS Scenario.
Can Russian gas be redirected towards China?
The halt of Russian gas flows to Europe has come at a speed that was previously unthinkable. In this WEO scenario, more Russian resources are drawn eastwards to Asian markets, but Russia is unsuccessful in finding markets for all the flows that it previously sent to Europe. An immediate reorientation to Asian markets is particularly difficult in the case of natural gas, as the physical possibilities for large-scale additional deliveries to China are limited by the existing pipeline infrastructure.
In the longer term, Russia is targeting new pipeline links to China, notably the large-capacity Power of Siberia-2 pipeline through Mongolia. However, the WEO demand projections for China raise considerable doubts about the economic viability of this additional large-scale gas link. This is because the STEPS sees China's gas demand growth slow to 2% per year between 2021 and 2030, compared with an average growth rate of 12% per year up to 2010 which reflects a Chinese policy preference for renewables and electrification over gas use for power and heat.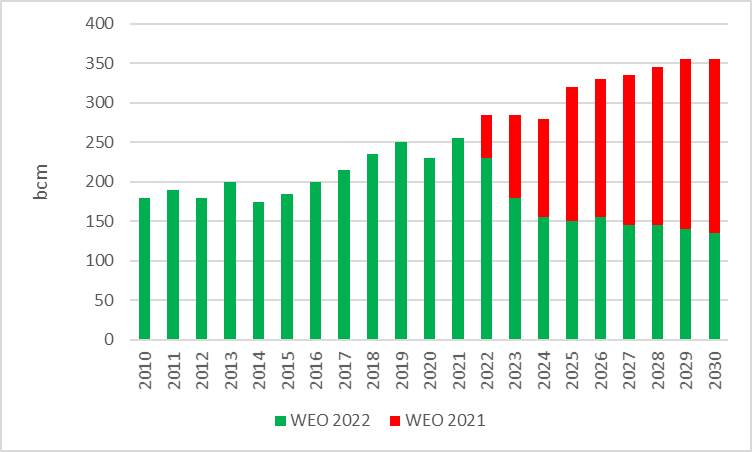 Adapted from IEA, Russian gas exports in the World Energy Outlook 2022 vs. 2021, IEA, Paris https://www.iea.org/data-and-statistics/charts/russian-gas-exports-in-the-world-energy-outlook-2022-vs-2021
We are not in a clean energy crisis
The WEO clearly establishes that the energy crisis of today is the first truly global energy crisis. The energy crisis in the 1970s was more uniquely related to oil, this one is clearly triggered by Russia's invasion of Ukraine and encompasses all the energy sources.
Those who are blaming the climate, carbon markets or renewables for today's crisis are only shifting away the attention from the real cause. The IEA says that high gas prices are behind 90% of the increase in global electricity prices this year. By September 2022, the Amsterdam Title Transfer Facility (TTF) reference gas price had reached more than 20 times its price of two years earlier, pushing up EU power prices because of the electricity market design which sets the power price by the marginal price, often the gas power generation prices these days. This is a big call for the review of the electricity market design that the EU Commission is planning to propose in early 2023.
Gas is no more than a short transition fuel
One of the more substantial shifts is this year's edition of the WEO is for the role of gas. Last year's outlook saw a 20% increase for gas between now and 2050, which is revised to no increase in this year's edition. Russia is a big loser, set to miss out on more than $1tn of earnings from energy exports between now and 2030.
High gas prices are such that the momentum of natural gas growth in developing economies has slowed, notably in South and Southeast Asia, putting a stop to gas as an important transition fuel. Most of the downward revision to gas demand to 2030 in this year's STEPS is due to a faster switch to clean energy and not to a replacement with coal or oil.
Are the war and the energy crisis a setback for the climate?
Clean energy investments, a huge opportunity for growth and jobs, increase to more than $2tn by 2030 in the STEPS, which is a rise of more than 50% from today.
By 2030, thanks in large part to the US Inflation Reduction Act, annual solar and wind capacity additions in the United States grow two-and-a-half-times over today's levels, while electric car sales are projected to be seven times larger. New targets continue to support the massive build-out of clean energy in China, with its coal and oil consumption both peaking before the end of this decade. Faster deployment of renewables and efficiency improvements in the European Union will bring down EU natural gas and oil demand by 20% this decade, and coal demand by 50%. Japan's Green Transformation programme also provides a major funding boost for clean technologies.
The global push for clean technologies demonstrates that the energy crisis is certainly not a setback for the climate, but rather an acceleration of the transition. All of this prompts the IEA to conclude that the pathway to the Paris Agreement 1.5°C objective remains "narrow but achievable". In fact, the IEA WEO 2022 leads us to the conclusion that the famous energy trilemma can all be solved by clean energy, bringing solutions to energy security, cost-competitiveness and sustainability.
Author: Pierre Dechamps is a Senior Advisor in our Energy & Natural Resources team in Brussels.
About FTI Consulting
FTI Consulting is an independent global business advisory firm dedicated to helping organisations manage change, mitigate risk, and resolve disputes: financial, legal, operational, political & regulatory, reputational, and transactional. FTI Consulting professionals, located in all major business centres throughout the world, work closely with clients to anticipate, illuminate, and overcome complex business challenges and opportunities.
For more information, visit www.fticonsulting.com and connect with us on Twitter (@FTIConsulting), Facebook and LinkedIn. The views expressed in this article are those of the author(s) and not necessarily the views of FTI Consulting, its management, its subsidiaries, its affiliates, or its other professionals. ©2022 FTI Consulting, Inc. All rights reserved. www.fticonsulting.com
---
[1] https://www.iea.org/events/world-energy-outlook-2022
[2] https://www.consilium.europa.eu/fr/press/press-releases/2022/06/28/g7-leaders-communique/
[3] https://www.euronews.com/green/2021/05/18/scrap-fossil-fuel-projects-now-to-limit-global-warming-says-international-energy-agency